If you need a safe and fast plugin for WordPress, this is the one to go for.
Protect your WordPress website by hiding the fact that you are using WordPress for your website.
Hide my WordPress PRO Features:
Hide WordPress wp-admin URL
Hide WordPress signin
Custom admin and login URL
Custom wp-includes path
Custom wp-content path
Random plugins names
Random themes name
Custom plugins path
Custom uploads path
Custom authors path
Custom comment URL
Custom category path
Custom tags path
Remove unwanted classes
Hide _wpnonce key in forms
Hide wp-image and wp-post classes
Hide Emojicons if you don't use them
Disable Rest API access
Disable Embed scripts
Disable WLW Manifest scripts
Brut Force Attack Protection
Math function in Login Page
Custom attempts, timeout, message
Support for WordPress Multisites
Support for Nginx
Support for IIS
Support for LiteSpeed
Support for Apache
Support for Bitnami Servers
Integrated with Wp Rocket plugin
Hide My WordPress do not physically change the paths on your server. We use the WordPress hooks for that.
PLUGIN SPEED:
High-speed WordPress plugin. The plugin was created to work extremely fast with all options activated.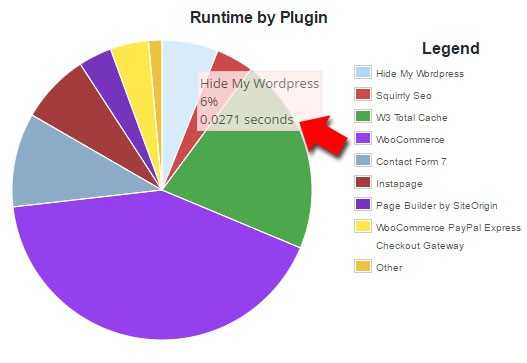 NEW!
Support for subdomain and subdirectory Multisites
Support for Nginx server
Support for IIS server
Support for LiteSpeed server
Support for Bitnami servers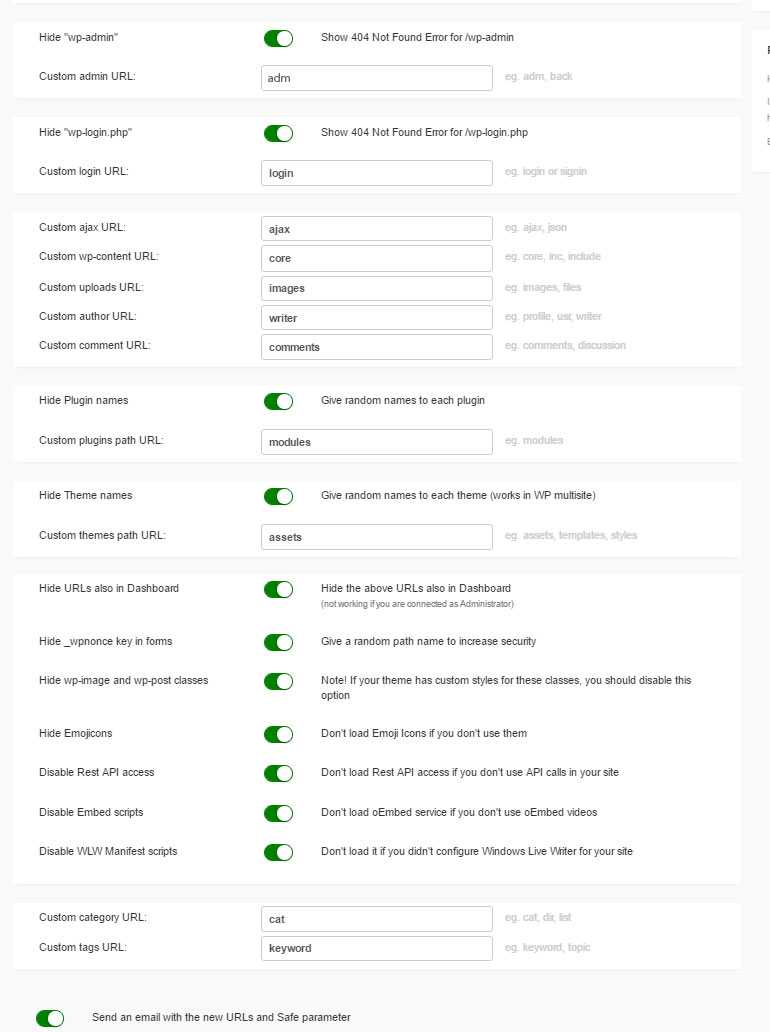 AND MORE:
Support for Apache .htaccess file to prevent Script Injection
Premium Support for any issue during the installation
== Changelog ==
= 2.3.016 (24 March 2017) =
* Update the firter that removes generator meta
* Update the filter that removes the version number from all links
* Knowledge Base at: http://hidemywp.wpplugins.tips/
* More details for setting up on nginx servers
* Don't change the paths for other subdomains when wp-rocket is on

= 2.3.015 (20 March 2017) =
* Update the language text from Brute Force Login Page
* Fixed the apache fatal error for non apache servers
* Add custom class remover in Settings > Hide My Wp > Advanced
* Fixed small bugs

= 2.3.014 (14 March 2017) =
* Update the language text from Brute Force Login Page
* Fixed small bugs

= 2.3.013 (20 Feb 2017) =
* Fixed compatibility bugs with more themes
* Fixed notification issues

= 2.3.012 (15 Feb 2017) =
* Fixed the ajax call when users are not logged in
* Fixed relative paths
* Redirect all admin paths to 404 when user is not logged in
* Reset brute force attempts when a user successfully logged in

= 2.3.010 (13 Feb 2017) =
* Fixed the login issue in some themes
* Small adjustments for WP Rocket plugin
* Added the Brute Force Protection
* Added the Math function for login page
* Added login attempts for Brute Force
* Added lock timeout and white-list for Brute Force
* Added custom message lockout
* Added countdown attempts for login fails
* Added Lock IP list and Unlock option
* Added the option to restore the settings after plugin activation


= 2.3.002 =
* Hide common paths if "Hide URLs for Logged Users" is switched on
* Hide the common paths when URLs contain queries

= 2.3.001 (28 Jan 2017)=
* Update cookie security for WP Multisite with subdirectories
* Removed the wp_config.php ADMIN_COOKIE_PATH line
* Added support for plugins that user PLUGINS_COOKIE_PATH
* Prevent other plugins to redirect the custom login path
* Added new options in Advanced mode
* Fixed admin to 404 when user is not logged in
* Added option to customize the wp-admin in WP Multisite mode with subdirectories
* Update the compatibility with more WP Themes
* Remove HTML comments from source code
* Works with WP 4.7.2

= 2.2.007 (16 Jan 2017) =
* Fixed Register and Lost Password links
* Removed duplicate themes in the rewrite table

= 2.2.006 (27 Dec 2016)=
* Fixed WPMU database prefix

= 2.2.005 (06 Dec 2016)=
* Add patch for wp-rocket plugin
* Add custom redirect for the hidden pages
* Fixed clear cache on admin changed
* Fixed Upper case paths issue
* Included child theme in theme random names
* Fixed IIS config issue when URL Redirect is not installed
* Add the hide the wp-admin for IIS servers

= 2.2.001 (23 Sept 2016) =
* Added the hide old paths option in Settings > Hide My Wp
* Hide the relative links and images
* Hide the encoded paths in javascript code
* Fixed add comments issue in hiding mode
* Fixed small bugs

= 2.1.015 (06 Sept 2016) = 
* Fixed the setup issue for WordPress multisite
* Compatible with Multilanguage plugins

= 2.1.012 (03 Sept 2016) =
* Fixed replace URL in javascript for encoded URLs
* Corrected the email send for security
* Change to default and remove wp-config.php line in case of deactivation
* Fixed small bugs with cache plugins
* Compatible with more Themes and Plugins
* Requires Network Activation in WordPress Multisites

= 2.1.008 (23 Aug 2016) =
* Compatible with WordPress CDN Enabler
* Added advanced settings

= 2.1.007 (10 Aug 2016) =
* Send email when admin or login URLs are changed
* Fixed safe parameter login

= 2.1.006 (05 Aug 2016) =
* Fixed admin for Editors
* Fixed login process using the safe parameter
* Tested with W3 Total Cache, WP Super Cache, Fastest Cache
* Fixed small bugs for Late init in WP Super Cache
* Hide images classes wp-image and wp-post
* Compatible with WordPress 4.6
FAQ
Can I install the PRO version if I have the Free version of HMW installed?
YES. The PRO version will take all the previous settings from the FREE version and after you activated the PRO version you can remove the Free version from your website
---
Can I activate Hide my WordPress as WP multisite network?
YES. The plugin detects the WP multisite and will allow you to activate only the safe settings.
---
Does the PRO version is a One Time and Lifetime payment?
YES. The plugin price is One Time Payment and the version updates are Free.
Note: We don't offer lifetime support. The support is for the plugin installation on one website.
---
Can I use the Unlimited Websites License as an Agency?
No. The license is for one owner with multiple websites. If you are an agency please contact us for an offer.
---
Do you offer refunds?
Please read our Refund Rules.