Studies reveal that most of the WordPress websites stay on the prime target for hackers. If you stop being careful about your website security, you can be their next preference. Therefore it is essential to maintain a routine check on website vulnerabilities so that you can stay aware of all the loopholes and can protect your online platform from hackers.
Below we have highlighted 10 Free WordPress Vulnerabilities Detectors Online. Hope these details will help you to maintain your website secure:
1
WP Plugins Vulnerability Detector
WordPress Vulnerability Detector – This detector is being used by professionals from long past and it shows impactful results for getting rid of hackers on websites. WP Plugins keep on telling users whether their site is safe or vulnerable to hackers and will also suggest useful tools to stay safe. It can help you to protect WordPress Content, WordPress Themes and Plugins as well. This online vulnerability detector is capable enough to protect your website against things such as SQL-injections, Brute Force Attacks, and PHP file requests. You can visit the website and enter your URL to run WordPress Vulnerabilities Check Online.
WordPress Security Scan – This online detector works for checking WordPress Plugins, Application Security, Web Server and Hosting Environment. You will be happy to know that this security scanner downloads a number of pages from the website and runs a deep analysis on RAW HTML code. This tool can also check for Linked iFrames, Linked JavaScripts, Linked Websites, Directory Indexing and User Enumeration. The paid members can enjoy more advanced features.
First Site Guide – If you need a real-time hacking protector for your website; First Site Guide is a really beneficial tool. It is easier to use and is designed with an interactive platform that makes it more suitable for beginners. Although it cannot make your site completely hackproof it is capable enough to detect major hacking activities so that you can protect your content online. This free scanner can perform several scans within very less time and can fix the major issues with ease.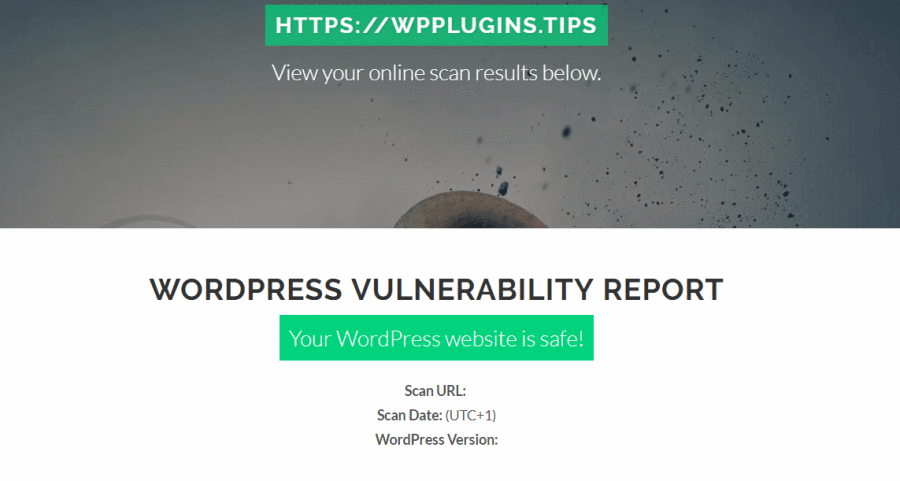 WP Scan – Here is an intelligent platform with advanced scanning algorithms that can run a scan for the known bugs that are already listed in the WPScan Vulnerability Database. Note that it contains more than 4000 reported vulnerabilities and can also identify various plugins that you are using by comparing them against bug database. One additional benefit of using WP Scan is that it also scans several common mistakes that people often make while installation their WordPress setup.
Sucuri.Net – Sucuri is another popular online detector that can generate timely reports for vulnerabilities related to themes and plugins. It also possesses a site scanner for highlight vulnerabilities. Website Firewall, Defacements, Injected Spam, Website Blacklisting and Scan Malware also work for your links and scripts. You will also be able to know if your site has been blacklisted any essential service such as ESET, SiteAdvisor, Phish Tank, Google Safe Browsing and many more.
Web Inspector – It provides users complete WordPress Vulnerabilities Scan service that includes Phishing, Blacklist Checking, Malware Downloads, Worms, Drive-By Download, Trojans, Backdoors, Heuristic Virus, Suspicious iFrames, Suspicious Codes, Activities, and Connections. Most essential part of its service is that it shows E-Commerce safety details.
Upguard – This tool runs decent scans for the website and at the same time also checks Google Safe Browsing Check, Header, Info, Meta Tags, SSL, Scripts, Sub Domain, Communication Services and Communication DNS. In addition to this, App.Upguard also checks for Breaches, Exposed Emails, Secure Cookies, HttpOnly Cookies, Domain Expiry, DNSSEC Enabled, Database, Administration, File Sharing, User Auth, Server Information Header, SSL Strength and many more.
Hackercombat – It can scan your WordPress website for Malware detection, Malicious Activity, Blacklist Checking, Phishing, Backdoors, Worms, Transaction Protection, and Trojans as well. After checking your information, they keep on sending reports to the specific email address for easy detailing.
Quttera – This plugin can scan your WordPress website for unknown and known malware along with any suspicious activity. It allows users to run a scan directly from their WordPress admin dashboard that generates an HTTP call to the Quttera to run the scan and will instantly provide results. While maintaining Maleware lookup, it also performs few essential actions such as Investigate WordPress Core Files, External Link Detection, Non-Signature Detection, URL blacklist details and many more.
WP Loop – This online vulnerability detector can check the WordPress meta tags, response headers, and readme.html to ensure perfect safety for your content online. It also keeps an eye on the list of usernames, failed login attempts, browsable upload folders and accessible PHP files. This tool ensures complete protection for page headers and admin interface so that your website can stay protected from unwanted access.
If you are running a business online and want to protect your WordPress website from hackers; pick any of above tools to ensure complete protection for your platform. These WordPress Vulnerabilities Check tools are available for free online and can serve your needs for the long run.
Latest posts by John Darrel
(see all)